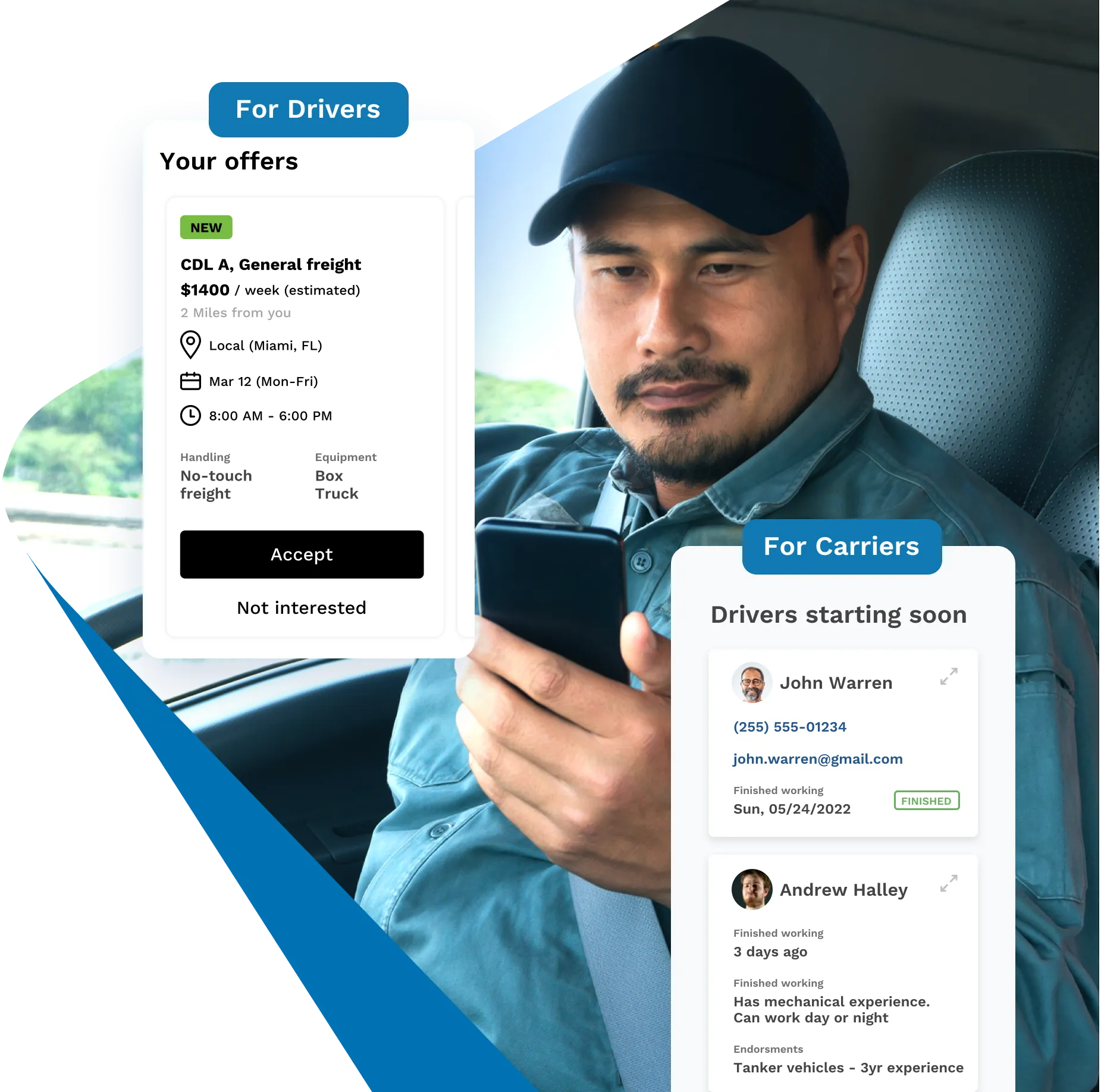 The

#1 Source

for Drivers
TransForce matches drivers to great jobs through a network of over 3,000 carriers nationwide.
Drivers, Your Next Great Job is Just a Click Away
Download the TF1 mobile app to instantly match with great jobs in your area. Only view jobs that meet your personal, professional, and income goals
Unlock More Choices with TF1

Say Hello to Your Personal Job Finder

You want to be home each night. You have a weekly pay goal. You have a desired schedule.

Whatever your situation, let the TF1 mobile app match you only with the jobs you want.

Download the TF1 mobile app today

Interested in a Driving Career? We're Here to Help

There has never been a better time to get into the trucking industry. Through our network of CDL Schools, we are graduating and placing more than 30,000 new drivers each year.

Discover our CDL training programs
Carriers, We Are Your
Driver Solutions Partner

.

For over 30 years, TransForce has been finding qualified CDL drivers and placing them in the right jobs, at the right time. When you need CDL drivers to keep your goods moving - You can count on TransForce to fill your seats.
We Deliver Drivers the Way That Works Best for You
Whether you need a TransForce driver to fill your short or long term assignments, or are looking to bolster your own CDL driver recruitment efforts - we have the best CDL driver solution for you.
Access an Unparalleled Driver Network

With over 1.8 million CDL Drivers at our fingertips, +10,000 TransForce drivers on staff annually, and 30,000 new drivers placed into the market each year - TransForce is able to offer you unparalleled access to drivers.

View Solutions for Carriers

Match with Qualified Drivers Instantly

It's time to say goodbye to traditional recruiting channels. With TF1 for Carriers, we've made driver recruitment more efficient than ever.

Discover TF1 for Carriers
TransForce by the Numbers
+10,000
Drivers processed for compliance annually
Our request to TransForce was that we need drivers who will be flexible and patient with us. The drivers and the TransForce managers were amazing, working with us and providing suggestions to make this operation world class.
Matt Mascia
Director of Transportation, Lindenmeyr Munroe
TransForce cares about you, your schedule, and the type of work you want to do.
Deborah Whitehurst
Driver
Working with TransForce has been phenomenal, and the process for sourcing drivers has been easy. I would recommend TransForce Group to any organization with an immediate driver employment solution need.
Roger Cortes
Director of Operations, Emergency Food Network